If It is To Be, It is Up To Me.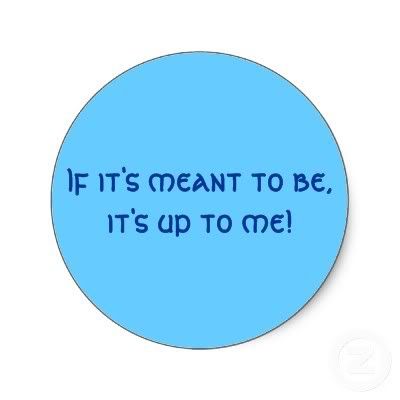 Those ten words in the title above are words to live by. And you know who taught me that? My 85-year old Pop-Pop.
Recently my Nana and Pop-Pop not only celebrated their 66th Anniversary, but they also are celebrating a new chapter in their lives together, by moving into an Independent Living Facility.
In the last week or two, I have been over at their new house a lot, going back and forth to their old home, and aiding them in getting situated and doing last minute things. Many people might find these type of tasks to be mundane and a burden, but not us. Not even a little bit, not at all. I love it. I really do. Well, we both do.
The "me" everyone used to know would have rather done anything else. If it wasn't about me, I wasn't interested.   Today, today is a different story. There is nowhere else in the world I'd rather be when I am helping them, listening to them, admiring their commitment to one another and to their marriage, then right there, in that exact moment.
There is also something else I admire. Something huge. Something honorable. My Pop-Pop has over 50 years sober. Five-Zero.  I have heard the stories a million times while growing up about his past struggles and about how he got sober with the help of AA. I was also always told about the understanding and comfort my Nana found in Al-anon. However, I can say now, that back then, they were just stories to me. I didn't fully grasp how remarkable they really were. Not until now.
Most of the stories consist of them leaving their home in the middle of the night to come to the aid of other's in need. Back then Pop-Pop would help the men get clean and Nana would help the wives. They are those people. Unconditionally caring. Always giving. Recklessly wonderful.
As I were bringing over boxes to their new home the other day,  Nana shared with me a quote that she thought I might like. She also shared that this inspirational quote is engraved on my Pop-Pop's 50th Anniversary of sobriety plate.
"If it is to be, it is up to me."
As I stated in the beginning of this post, it is just ten simple words. But these particular ten words have now been handed down from one generation to another. From one addict to another. From a Grandfather to his Grandson. 50 years, worlds apart, and yet connected not just by blood, but  by the same struggle.
In that instant, as she shared those words with me, those "stories" that I had heard all my life while growing up, became more to me than just stories. They became a reality that I could identify with. A reality that we both now share.
In recent years my Pop-Pop's mind isn't what it used to be, but he still remembers those days in AA. He still remembers what the soul can't forget. Even if he doesn't remember me telling him, I am trying to make it a point lately to tell him how proud I am of him, and how proud I am to know and be a part of him.
So here's to my Pop-Pop, a great man, and to my wonderful Nana, who takes such good care of him. We are all so lucky to have you in our lives. Everyday we learn from you, everyday we are thankful for you, and everyday we love you more and more.